Post by scottwashburn on Oct 17, 2018 0:44:27 GMT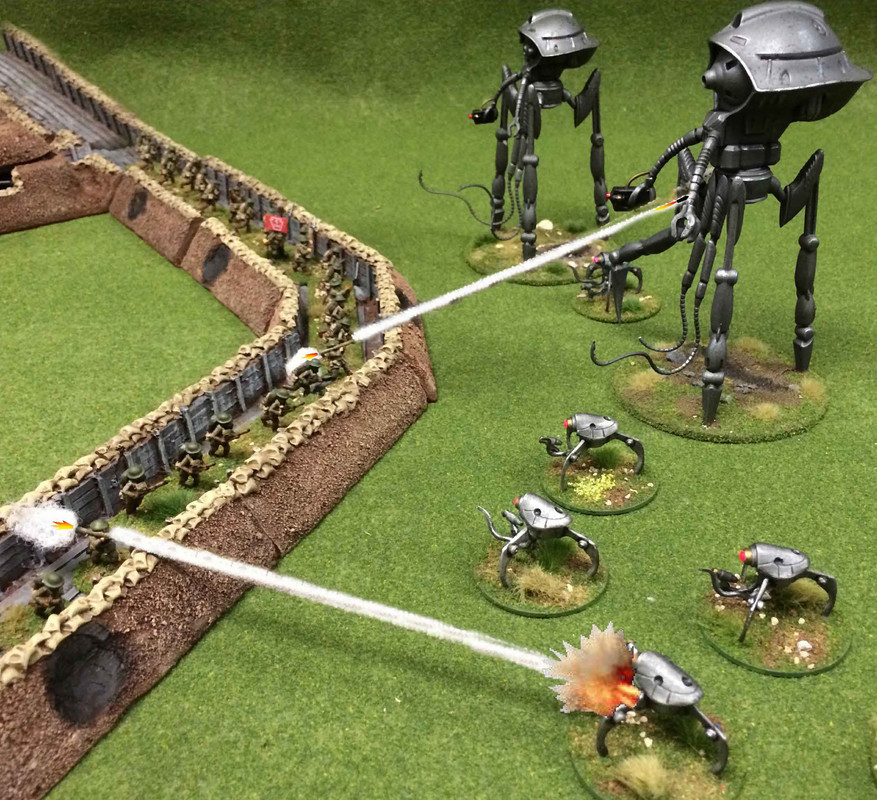 Stovepipe Rocket Launchers
Starting late in 1910, Dr. Robert Goddard began work to develop a small, man-portable rocket launcher for use by the US Army. Early in the war against the Martians, it was quickly learned that most small arms fire was ineffective against the Martian tripod machines. Infantry soldiers, desperate to provide themselves with some weapon which could be effective, resorted to all sorts of makeshift methods in those early days. The only ones which proved effective were explosive bombs, usually dynamite. Unfortunately, the only way to deliver the bombs was for the infantry to run right up to the tripods and try to attach the bombs to them in some fashion. This was extraordinarily dangerous, and troops attempting the feat invariably suffered very heavy casualties. Goddard hoped to invent a much more effective and safer weapon for the infantry.
Working with Charles Munroe, a noted explosives expert, a rocket carrying a hollow-charge warhead was created. It had approximately the same hitting power as a 4" artillery projectile. A lightweight launching tube was also designed. Extensive testing at the Aberdeen Proving Grounds in the spring and summer of 1911 saw the device perfected. Officially designated the 'Rocket Launcher, Anti-Tripod, M1', the troops instantly dubbed it a 'stovepipe'. By the fall of 1911, the stovepipes were being manufactured in quantity and sent to the troops in the field. They quickly proved their worth in the great battles around St. Louis and Memphis in the summer of 1912. Not only were they capable to damaging a tripod at a range of several hundred yards, they proved to be a perfect weapon for dealing with the Martian spider machines which came into use about that same time.
Stovepipes are now standard equipment in the American army with one or two assigned to each infantry platoon.
Stovepipes in All Quiet
Rather than introduce a whole new Stovepipe unit, I have decided to use the same approach as the Forlorn Hope rule in the All Quiet Rules. Stovepipes can be added to infantry units, giving the unit the ability to take stovepipe shots at enemy targets in addition to its normal attacks. A marker, or a special figure can be placed with the units that are so equipped to mark them.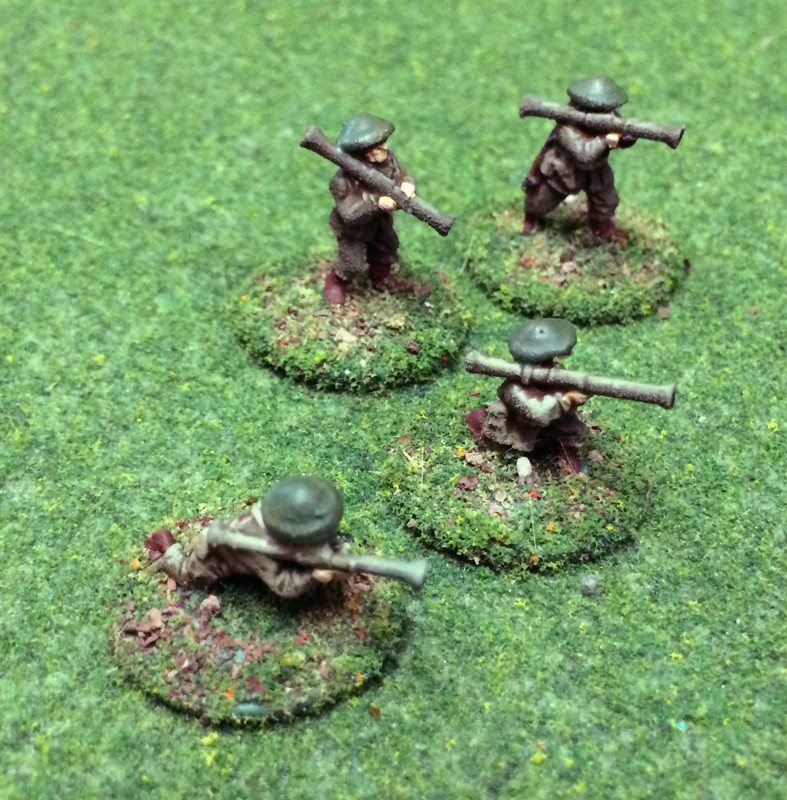 An infantry unit can have one or two stovepipes attached to it. For each stovepipe, the unit can fire one shot each turn. The infantry still gets its normal rifle fire as well. Rather than worry about if the stovepipe is destroyed when the unit takes damage, the rule is simply that as long as there is one stand left per launcher, the stovepipes can continue to be used. (I.e. if the unit has one stovepipe assigned it can continue to use it as long as any stands remain in action. If it has two, then it needs to have two stands in action to fire both of them.)
An infantry company with one stovepipe assigned to each rifle platoon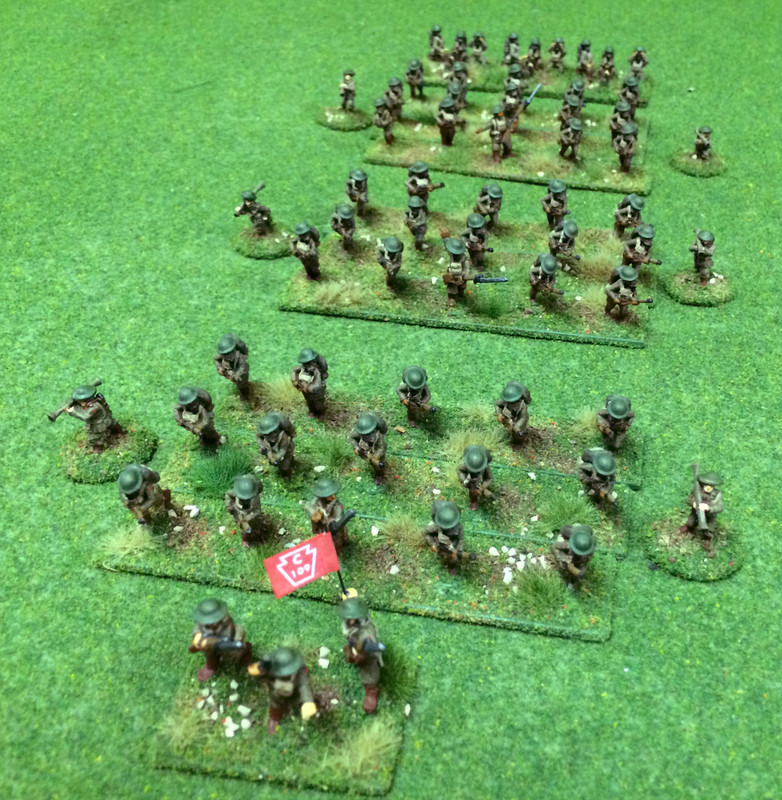 Other units like machine guns and artillery can have stovepipes assigned to them, but the unit CANNOT fire the stovepipe and its normal weapon in the same turn. One or the other. (But each stovepipe only needs one normal stand to fire it. For example, a machine gun unit with three machine guns could fire one stovepipe and two machine guns.)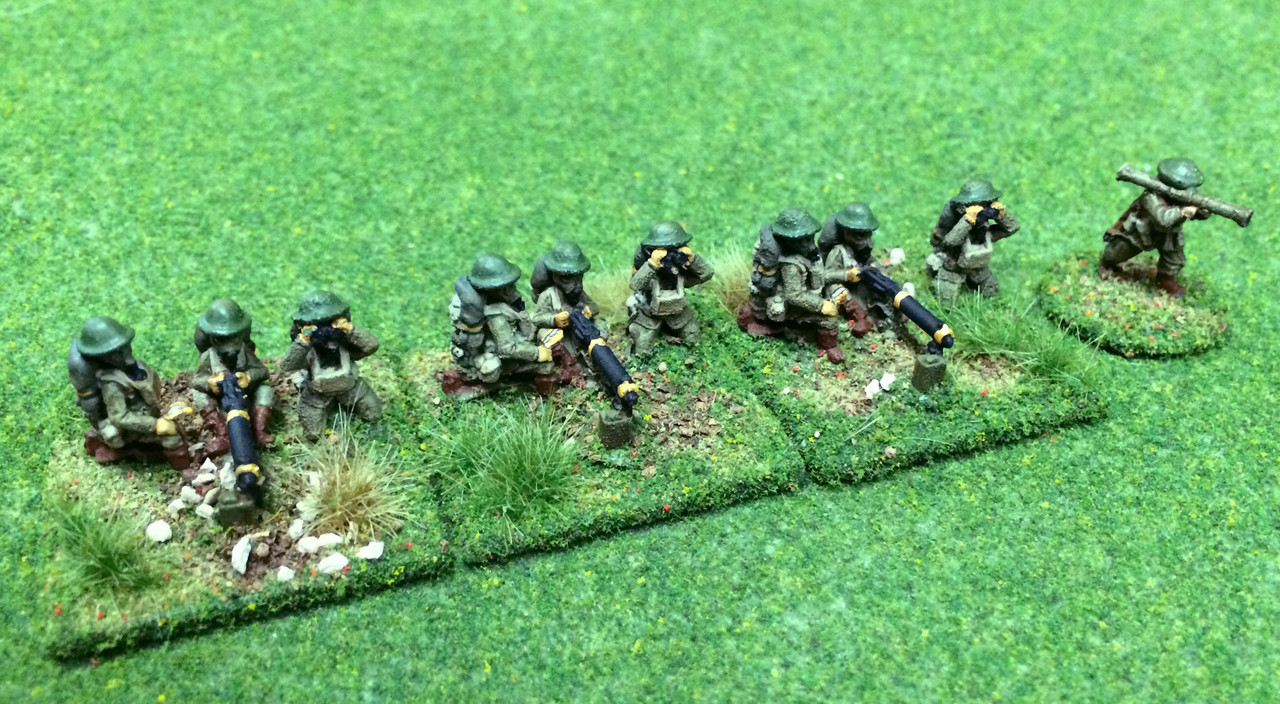 A machine gun platoon with an attached stovepipe.

Stovepipes in close combat.
If a unit with stovepipe teams launches an assault, the stovepipe can fire as normal during the assault. This gives the unit more attacks.
Stovepipe Team
Point cost: 10 points each
Range: 12"
Power: +2
My Stovepipe Markers
I made some Stovepipe markers by buying some Old Glory American Bazooka figures and then replacing their helmets. Not a perfect match for All Quiet infantry, but they will do.