Post by FalconKPD on Feb 15, 2018 8:04:13 GMT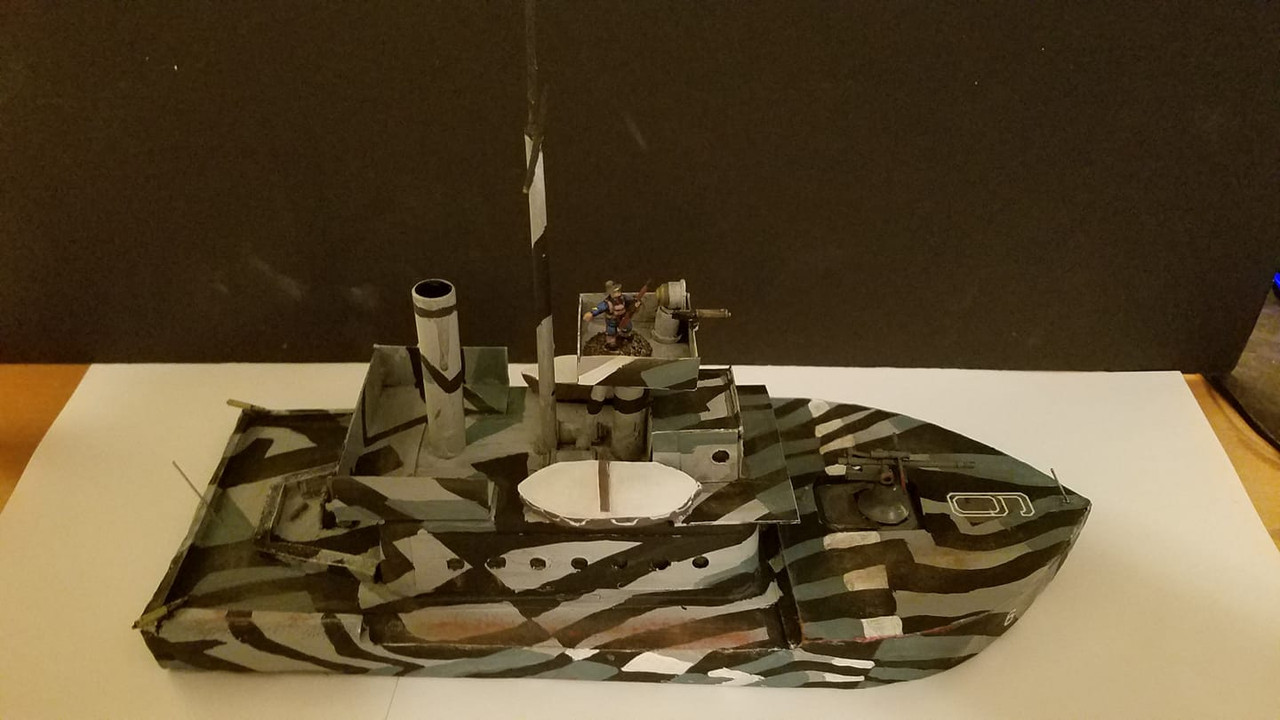 Allegheny-Class Armored Gunboat

US Navy's 100 foot Allegheny-Class gunboats are built by the hundreds out of the Philadelphia Naval Yards. Easy to Manufacture and arm, the steam turbine driven Alleghenys pack a fine punch against martians with a deck mounted Anti-Tripod gun on the bow, and a British made Stokes mortar in the stern for attacking enemy infantry.
The Alleghenys have decent armor, though consistent heat ray fire will easily make the asbestos-lined steel deck run like molten lead should the Martians lay their eyes upon her.
Depicted is the USS Eldred (RG-6) in an experimental dazzle camouflage. Efforts were made to paint her deck in the camouflage along with her hull, however, the attempt at top-down camouflage proved inefficient to maintain and question was raised whether or not it would actually deter Martian attacks from above. In August of 1913, her paintscheme was changed back to the standard grey common to most other US warships.
...
Unit: 1 element
Points per unit: 400
Type: Ship
Speed: 6" Defense: 4 Armor: 8 Special:See below
Weaponry Range Power Special
1x 90mm Anti Tripod Gun 30" +3/+4 Barrage 1/AT Shell
1x Stokes Mortar 30" +1/+2 Barrage 1/Shrapnel Shell
4x Machine Gun 20" +1 Rapid Fire 3
Lay Steam

A ship can lay steam in any move phase whether it moves or not – but cannot shoot in the same turn it lays steam (as it cannot see!). A ship that lays steam is invulnerable to Black Dust and sweeping Heat Rays. Focused Heat Rays are reduced to Power +2. All enemy weapons are limited to a maximum range of 25" against the Ironclad. The steam protection lasts until the beginning of the ship's following turn.
Limited Maneuverability

The Allegheny is not so easily maneuvered as an ordinary vehicle, so the way it moves is restricted compared to tanks and other vehicles. An Allegheny cannot pivot to face any direction it likes when it moves; instead it must move directly forwards and can pivot once as it does so, up to a maximum of 45 degrees, either before, after or at any point in its move.
Gunboat

If an Allegheny suffers one or more points of damage from shooting or assault, it is not automatically destroyed. Instead, roll a die and consult the following chart. If the Allegheny has suffered more than one point of damage add +1 to the die roll for each additional point of damage scored. For example, if a Monitor has taken 3 points of damage, roll a die and add +2.
Ship

Ships are, as one would expect, bound to designated waterways, be they rivers, lakes, or oceans. They cannot move onto land normally, and if a ship is forced onto land for any reason, it is permanently disabled on the bank and cannot move for the remainder of the game.
Fully Independent Targeting

The gunboat has the crew capacity to be able to train its armaments upon any targets that its crews can see. Therefore, each weapon fires independently and can choose any target that is visible from the weapon's position. This enables the Ironclad to shoot at different targets regardless of where they lie. However, the player must declare all the weapons that are going to shoot at a target before rolling any dice to score hits. It is not permitted to shoot at a target with one weapon and then decide to shoot at the same target again with a different weapon if the first shot misses – all shots at a target must be declared before you fire at it! In all cases, measure the range from the position of individual weapons from the end of the gun barrel.
90mm Anti-Tripod Gun:

Barrage/AT Shell
An Anti-Tripod Gun can shoot with either high-explosive shells, creating a barrage with a power of +3 or a solid Anti-Tripod shell tipped with hardened steel, which gives each gun a single shot and a power of +4
Stokes Mortar:

Barrage/Shrapnel Shell
A stokes mortar can either fire with high-explosive shells, creating a barrage 1 with a power of +1 to all enemies or an air bursting shrapnel charge that creates a barrage of 2 with power of +2 to infantry and +0 against tripods and other armored targets.

Damage Table

1-5: Light hit, the ship's armor value is lowered by 1.
6: The Allegheny's boilers are damaged. Reduce the maximum movement distance by 1". Armor value is reduced by 1.
7: The Allegheny's engines are disabled and the ship can no longer move or lay steam. The armor value is reduced by 1.
8-9: Critical hit. Roll a D10. The outcome will determine the amount of points reduced from the Allegheny's armor. If the D10's outcome reduces the Allegheny's armor value to 0 or below, the ship is destroyed and sinks.
10: The ship's coal bunkers and ammunition magazines are ignited and detonate! She explodes in a fireball that sends her to the bottom.