Post by gunnyhighway on Nov 24, 2018 18:30:03 GMT
Funny how Scott and I think along the same lines (Sorry, Scott!) I just finished the models for possible Martian survivors of Tripods in AQotMF. I can hear groans of "Geez, Gunny another aspect, stop for Cripes sakes!" However, it's an important feature of the game that Scott touches upon in his trilogy. One of the worries constantly on the minds of the Martians, especially their Commanders, is keeping enough of the race alive to run the machines they need to keep pressure up for the expansion of the invasion. Not only do they have to sometimes replace their own bodies ( they've slowed the infection but not eliminated it) but produce new beings off their own to increase their numbers. I recall only one "bud" can be reproduced off one Martian at a time. So this is a new twist to the game to reflect that:
Every time a Assault or Scout tripod is wrecked or collapsed roll a D10. If a 4+ is rolled the Martian pilot survives. If it's a catastrophic 10 there isn't anything left to collect except a greasy spot. Next to the wreck place your version of a survivor. In the photos I got the Celephod figures from Fighting 15's but used to be at Black Hat. The figures are supposed to be standing but only one tentacle is modeled to a stand so it was easy to convert. I thought they should be on the ground because of the heavy gravity here compared to their world. I bibbed and bobbed some survival containers that they have to crawl to provided by another Assault or Scout tripod. In Scott Washburn's books their described as collapsible so plenty around. Once the little slimy spud has gotten to the capsule, it can be carried by another Assault/Scout tripod. If carried off the board edge (designated) to the tripod reserve the little slimy can acquire another machine and come back on the board. This will require a order counter just like INDUSTRIAL MIGHT for the humans. Both the carrier and the new machine roll on the reinforcement table. We'll call this order CLAN RESERVE.
Here are some pics of the modification and Martian models.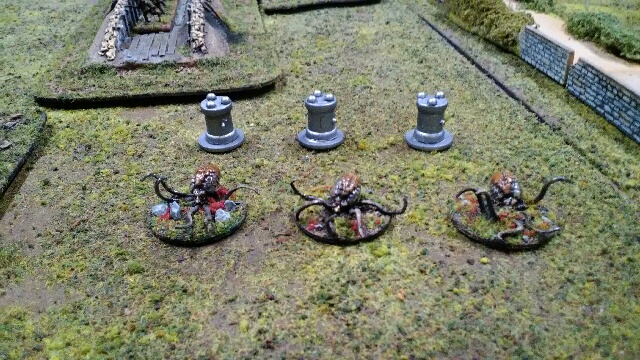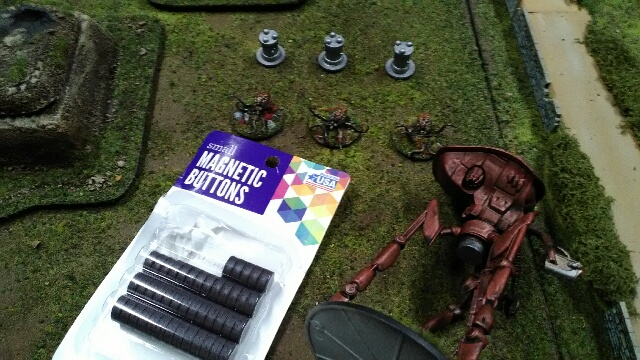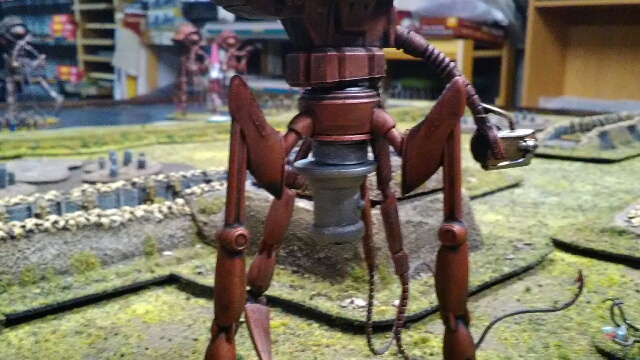 The button magnets are glued to the bottom of the Tripod's pedestal and fit nicely up and out of the way. IF you decide to build the containers make sure to use a metal attachment to the bottom such as a washer that will attach to the button so it can be carried. I like to do modelling that works, i.e. it physically works.
I haven't decided to give the Martian pilots small light heat rays for survival like downed pilots in our own time. It's an option. I haven't worked out stats for combat but thought they shouldn't move more than 4" at a time due to their inability to handle our gravity. Let me know what you think and what you consider stats for survival in combat and such. They can be captured for mega points and perhaps they tripod isn't considered dx'd for morale purposes until the fate of the pilot is determined... Like I always say take what u want and leave the rest... Discussion?
P.S. If Becca's around their is no chance of capture

Respectfully,
Gunny