Post by gunnyhighway on Oct 17, 2018 16:13:23 GMT
Fellow AQotMF'ers:
I am submitting this but with slight reservations. A while ago, I had revised the Command and Morale rules but kept the rest of the rules intact. In the last few weeks I have been working on the other projects to get them onto the forum which were the two campaign games I submitted and was trying to get the rules for each finished. Taking a break, I decided in a spurt of energy to submit the following works now, because of what has leaked in the last few days, i.e. a possible 2nd edition in the near(?) future. So take what you will, if anything, and leave the rest.
With this system there are now 3 ways to win:
1) Fulfill the Victory Conditions. IF neither side has fulfilled 2 or 3.
2) Take all the objective counters on the table top. IF your not careful, both sides can lose quickly this way. Placement of objective counters deserves your attention. Rules for this are on the second page of the QRS sheets. Scouts play an effective part in setup and the game. Scouts may set up during deployment 6 additional inches past the deployment zones and contribute to the determination on who goes first. I forgot to mention units with scout skills are listed on my cards. Infantry, Cavalry, Scout tripods and the regular drones are basically scout skilled units.
3) Hitting the Morale limit. As described, pulling too many BR chits is another way of losing the battle.
Firstly, the command rules have been changed to reflect command challenges, especially for the Human players. With radios just becoming available and not plentiful, for the American Army, control of forces is still done as it was during the previous ages. Semaphore, runners, aides on horseback, maintaining a line of sight, all ancient methods of keeping in touch and control that was not really reflected in the game. So the Human player must buy a HQ unit for each player at least. One of those must be the Field Commander. He will decide how many orders each player gets after the order dice are rolled. Something we are looking to change is non-tank commanders spend one order if the unit is within 12" but 2 orders are required if over that. All Tank commands and the designated Field Commander, spend one order regardless of length due to being radio equipped. Be sure to divide the units up as evenly as possible for game balance. Of course, the technically superior Martians will have a easier time with it. Martian players spend one order per unit regardless of length as they are all linked anyway.The designated highest pointed unit is the Field Commander. He also divides the order dice up among his players but command is flexible and can change turn to turn. This is something in the game which I felt was not shown, a disparity between the races in the conflicts between them. Secondly, Morale was predictable and didn't reflect the makeup or different makeups if you will, of forces on the table for either side. The differences between two worlds should be more visible within the rules than what is used now. This is my opinion and the following changes reflect that. Many will probably want to remain comfortable within the framework of the rules we have and I in no way, want to weaken the game with others that may not be on these forums and not know about what we do here. However, having said that and seeing how IG has commented on about the lack of sales with this game, what harm can be done at this juncture? So I submit that at the least, take a look, ponder, add to your games if you want as there are many submissions here to gaze at. I will submit to Quendil later and have these put in the download section for those who would like to have paper in hand. So, I hope you'll take a little time to peruse the following documents and digest what I have shown everyone. As I have said in the past here, take what you can use, just give me credit where it is due!
Respectfully,
Gunny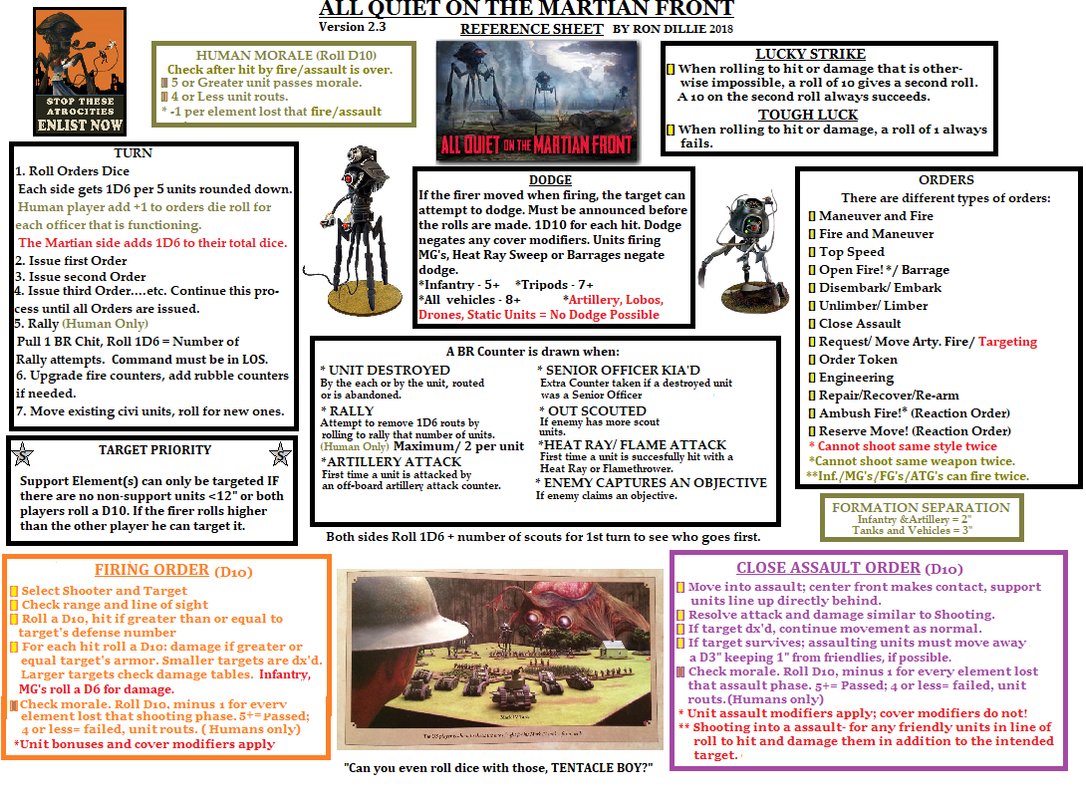 Note there are two "reaction" orders. If placed, these allow the placing player to react to the other player
in his turn!
Ambush Fire! and Reserve Move! are different types of orders. Ambush Fire! can be used
at any time
during the other players turn. You can interrupt when he's moving a unit or firing it. Reserve Move! is up to a double move that is strictly in a straight line but can only be triggered between his orders. You may not interrupt an action but can play it before or after. These two actions are left on the units until used or changed in that player's turn.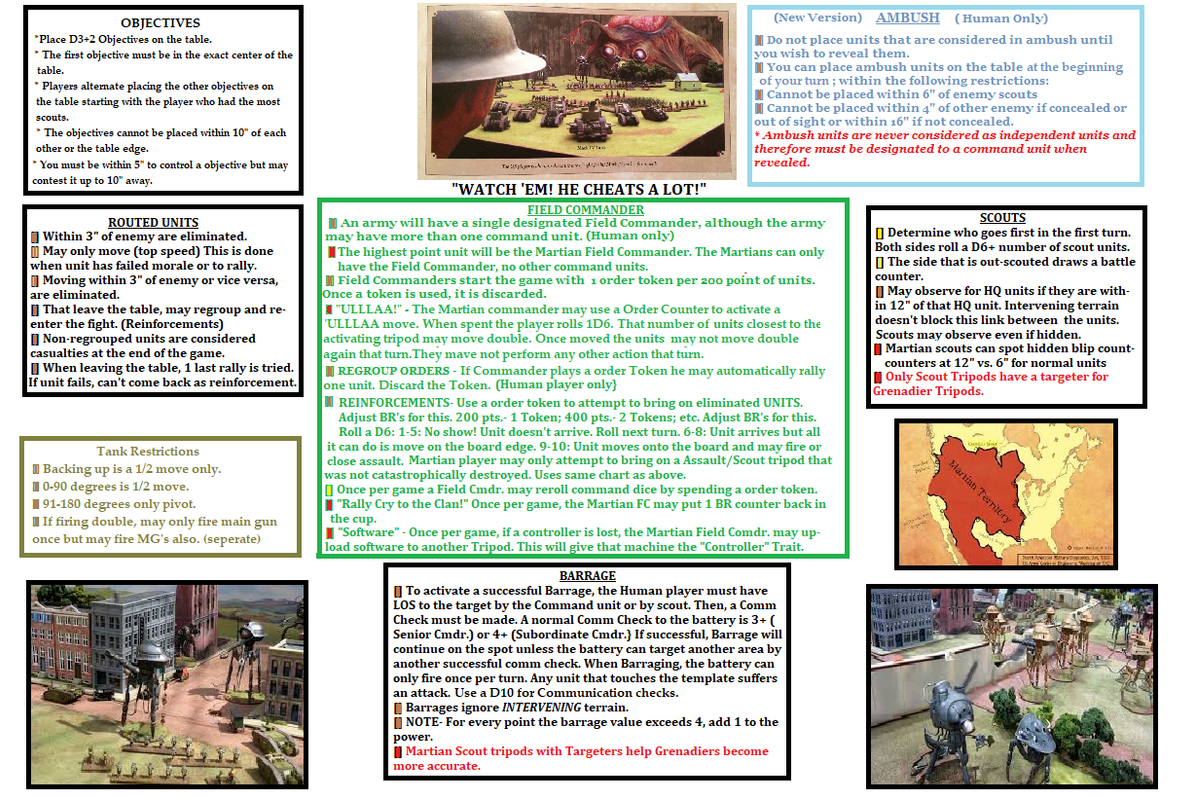 These two images are the new QRS for the new tweeks. Most boxes of info are for quick scans of rules information. The front page has two important boxes on the left and right that being the turn sequence and types of actions that players are allowed to do with their units. Notice that when numbers of orders are rolled for, you may roll well or roll like I do, poorly.
Next is the Battle Rating chit sheet, which must be backed with something , cut and placed in a cup. This is what is drawn when a UNIT is lost. Routing does not force a draw. The situations are listed on the QRS for when the chits are drawn. When you build your forces for that game, your BR total is the morale level you start the game with. When your draws exceed that number, morale has forced the game to end.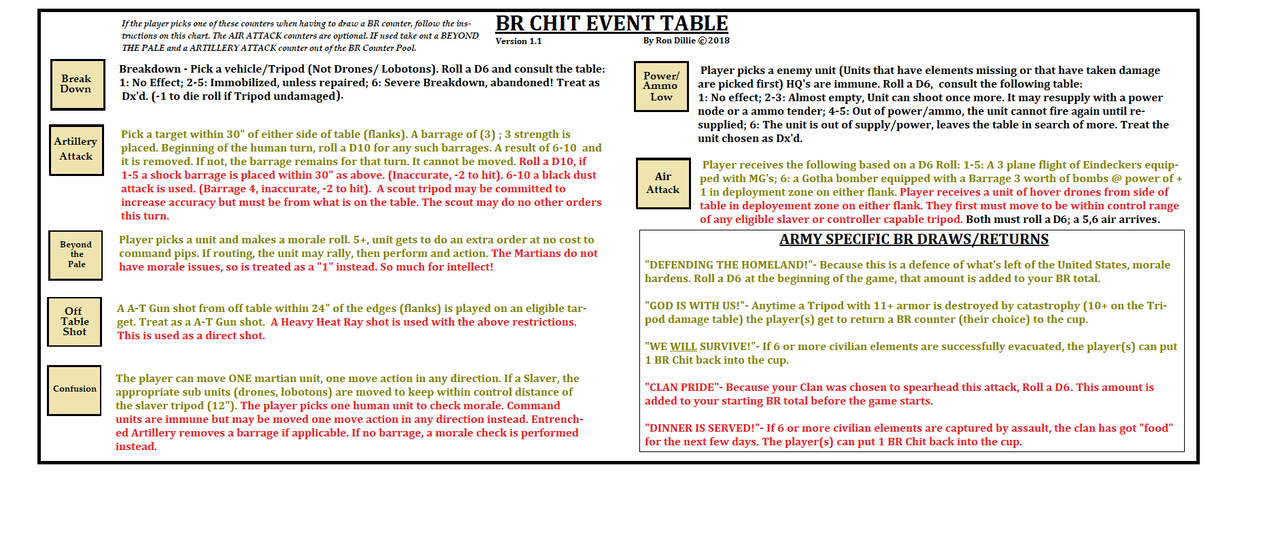 This is the BR chit event sheet. When having to draw BR chits from the events listed on the QRS and it's an
event, this sheet explains what must be done. When these are drawn, the chit does not add to your morale level, just follow the listed event but the draw is worth 0 to your morale level.
I have been unable to load the BR value sheets for both side's units but that will be in the download files that Quendil will hopefully put in the appropriate section. Thanks and enjoy!
Any questions feel free to ask!
Respectfully,
Gunny